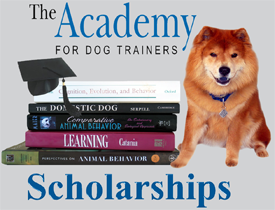 The primary reason for relinquishment of dogs to shelters and rescues is their behavior. Each year the Academy for Dog Trainers offers a limited number of partial scholarships to aspiring trainers who are actively working in animal shelters and rescues. The Academy looks for Applicants who will use their education to keep shelter/rescue dogs in adoptive homes, to help these dogs become better integrated with new families, and to help owners train, manage, and modify behavior using non-aversive, science-based practices.
Please read the 2015 Scholarship Information PDF before applying. It contains all the information you will need about our current scholarship process. Please submit the 2015 Scholarship Application Form and all of the required attachments during the application period from June 1st to June 15th, 2015.
You are welcome to direct any scholarship-related questions to: .